Description
RNWA-SA-1000 Wireless Signal Amplifier
The High Power Signal Booster replaces the antenna on your certified wireless device and boosts your wireless coverage by up to 3X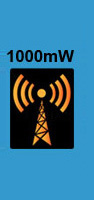 Power Wi-Fi Range
The High Power Wi-Fi Signal Booster features a massive 1000mW amplifier to boost Wi-Fi transmission and reception strength from your existing certified Wi-Fi Device. The RNWA-SA-1000 is optimally paired with a high gain omni-directional antenna for maximized coverage and in all directions, improving your wireless coverage by up to 3x. (Maximum output power of the RNWA-SA-1000 is less than or equal to 30dBm. Wireless performance may vary as performance depends on many factors, including environmental conditions and installation scenarios.)

Safe Signal Filters
Signal fillers ensure a safe and Wi-Fi friendly environment. The RNWA-SA-1000 has been tested and certified to be safe for use in all homes and offices.

Plug and Play Setup
Simply detach your original Wi-Fi antenna from your certified 2.4GHz 802.11b/g/n Wi-Fi device and attach the High Power Wi-Fi Signal Booster.

Multiple Mounting Options
The high power signal booster can be placed on a desktop, mounted on a wall or mounted magnetically onto a metal surface.