Teflon Nano Bearings (TNB)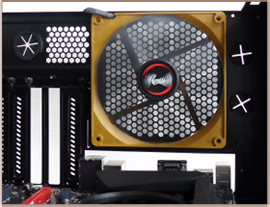 Self-lubricating TNB are quieter than other fans because of their exceptional resistance to high temperature, vibration, and abrasion (MTBF 200,000 hours).
IP56 (Ingress Protection Rating)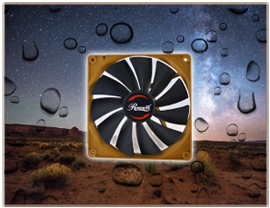 High-level dust and water protected, resulting in an extended lifetime.
Noise Canceling Adapter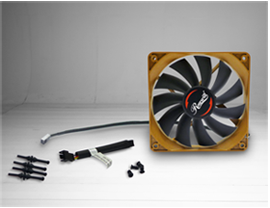 An extra cable converts the motor noise to silence.
Rubber Fixing Pins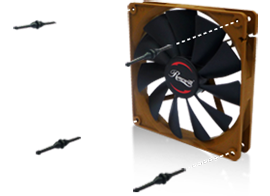 Another option for securing your fan. Allows choices in customized cases or when screws aren't needed.
Advanced 11-Blade Design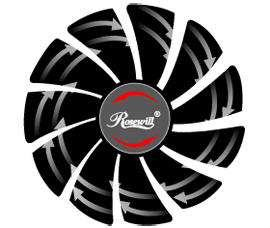 Latest 11-blade fan design enhances airflow while reducing noise.
Specifications
Specifications

140 mm

120 mm
Fan Dimensions
140 x 140 x 25 mm
120 x 120 x 25 mm
Rated Voltage
DC 12V
DC 12V
Rated Current
0.22A
0.22A
Power Consumption
2.64W
2.64W
Rated Speed
1200 RPM ± 10%
900 RPM ± 10% (Noise Cancelation Adapter)
1500 RPM ± 10%
1000 RPM ± 10% (Noise Cancelation Adapter)
Airflow
82 CFM / 60.23 CFM
64.75 CFM / 45.25 CFM
Static Pressure
1.33 / 0.83 mm-H2O
1.41 / 0.75 mm-H2O
Noise Level
21.5 dBA
14.5 dBA (Noise Cancelation Adapter)
25 dBA
18 dBA (Noise Cancelation Adapter)
Bearing Type
Teflon Nano Bearings
Teflon Nano Bearings
Lifetime L10 (hour/25°C)
200,000 (MTBF)
200,000 (MTBF)