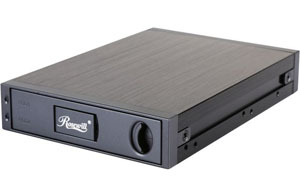 Rosewill RX310 Dual 2.5″ t0 3.5″ SATA JBOD Converter
The Rosewill RX310 External Enclosure is small in size yet powerful in features. With support for two 2.5″ SATA I/II/III HDDs or SSDs up to 9.5mm in thickness, this enclosure lets you substitute a 3.5″ hard drive for two 2.5″ SSDs/HDDs in any application [1] that would typically require a 3.5″ drive, such as desktop chassis, backplane, docking station etc. Featuring support for JBOD mode [2], it shows one HDD only, but the overall capacity equals the total capacities of both HDDs.
For fast performance and efficient data transfers, the enclosure supports SATA III transfer speeds – up to 6 Gbps. This means there is no need to wait long for your data to be copied.
The premium aluminum body with beautiful hairline finish not only provides a good look but adds protection to your hard drives. The ventilation holes deliver excellent heat dissipation to keep your drives cool.
This enclosure features screw-less design for quick and easy installation and automatic HDD ejection design for handy operation. And dual LED indicators (HDD access LED for each HDD) are included to indicate hard disk drive access activity – no more guesswork again.
Note:
[1]. The enclosure is compatible with most 3.5″ HDD backplanes and hot swap devices.
[2]. This product only supports "JBOD" mode. For first time use or changing the hard drive, press "Confirm button" to reassemble JBOD.